260 Boston Post Road, Wayland, MA is located on route 20 just west of the intersection (stoplight) with routes 27/126.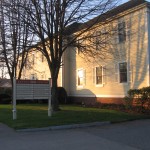 Landmarks:
The Wayland post office and Whole Foods are across the street to the west.
Shep's service station is practically next door.
The driveway is to the right of the building.
There are both  front and rear doors to the building. The office is just inside the front door on the ground floor, but you can get in through either entrance. Look for  suite #10.